Program Announcements
---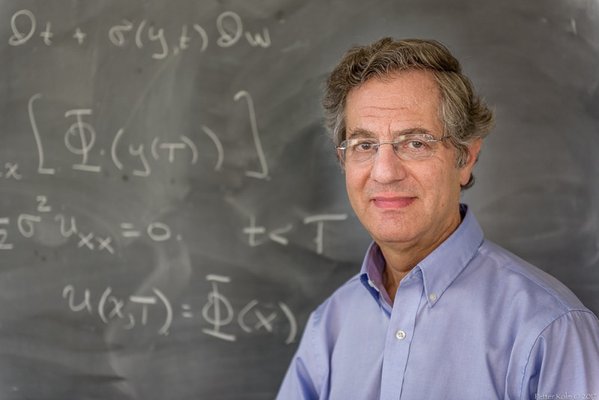 Professor Robert Kohn Awarded a Silver Professorship at NYU
As you may have seen in the news, Professor Robert Kohn, one of our Mathematics in Finance full-time faculty members, has been awarded a Silver Professorship in the Faculty of the Arts and Sciences at NYU.  He joins a very distinguished group of NYU faculty with his achievement.  I invite you to read his impressive biography below. 
Let me take this opportunity to say a few words about Bob and his continuous contribution and involvement in our program. Since co-founding the program in 1998, Bob has been a driving force to its success, including:
He has been a lecturer in courses such as Continuous Time Finance, Derivative Securities and PDE for Finance, having received much praise from students about his clear and insightful teaching style. I believe there are few students of quantitative finance, at NYU or elsewhere, who have not read his course notes on these topics.
He has been a member of the Steering Committee that makes leadership and policy decisions for our program.
He has mentored many of our students in preparation for their careers in the financial industry. He has also been an advisor for several Master's theses on financial mathematics.
Bob participated in the creation of the dual degree program (a joint M.S. in the Mathematics in Finance and Stern MBA) in 2007, which continues to be one of NYU's elite programs.
He is a wonderful colleague and friend at Courant, amongst faculty and staff alike, always willing to share his ideas and advice.
Please join me in congratulating Bob for his wonderful achievement!
Best regards,
Petter Kolm and the Program Leadership
Biography - Professor Robert Kohn
Robert V. Kohn is a leading expert in mathematical aspects of materials science. Working to understand, explain, and predict the behavior of materials by modeling them mathematically, he has applied and advanced a broad range of tools to address this topic—most notably, the calculus of variations and non-linear partial differential equations.
His work on materials has considered, among other topics, the formation and coarsening of microstructure and the wrinkling of thin elastic sheets. Professor Kohn has also done pioneering work in other areas, ranging from mathematical fluid dynamics to the determination of conductivity using boundary measurements. He was awarded the 2014 Leroy P. Steele Prize for Seminal Contribution to Research by the American Mathematical Society for his work on the Navier-Stokes equations from fluid dynamics.
Professor Kohn is an Inaugural Fellow of the Society for Industrial and Applied Mathematics (2009) and a fellow of the American Mathematical Society. He is also a co-founder of NYU's Mathematics in Finance MS program, arguably the premier program in the nation, if not the world, and a mentor of scores of PhD students.
Professor Kohn joined the Courant Institute in 1979 as a postdoctoral student and entered its faculty in 1981. He earned an AB in mathematics from Harvard University, an MSc in mathematics from the University of Warwick, and a PhD in mathematics from Princeton University.
---

Flavien Bellocq Elected to the Program Director's List
We are delighted to announce that the recipient of the Program Director's List for the fall 2016 is Flavien Bellocq. Flavien joined the program in September 2016 after completing his B.S. in Statistics and his M.S. in Data Science & Machine Learning at ENSAE ParisTech in France.
During the fall Flavien took four core courses (Computing in Finance, Derivative Securities, Stochastic Calculus, and Scientific Computing). He also participated in other program activities including the Career Development Workshop Series and the Tuesday seminars. In the classroom and beyond, Flavien has consistently demonstrated outstanding academic excellence and great program citizenship.
Please join us in congratulating Flavien for his great achievement!
Best regards,
Petter Kolm and the Program Leadership
---

The Mathematics in Finance Program Congratulates Hayne Leland for the 2016 IAQF/Northfield Financial Engineer of the Year Award
On February 2, 2017, Professor Leland received the 2016 IAQF/Northfield Financial Engineer of the Year Award at a special awards gala event. 
Hayne Leland is the Arno Rayner Professor Emeritus of Finance and Management at the University of California, Berkeley's Haas School of Business, on being named the 2016 IAQF/Northfield Financial Engineer of the Year (FEOY). 
Read the official IAQF/Northfield press release here. 
---
Petter Kolm Presented at SQA and Citi in November
Petter Kolm, our Director, presented "60 Years of Portfolio Optimization: Practical Challenges and Current Trends" at  SQA's Half Day Conference "Advances in Portfolio Construction - Celebrating 25 Years of Black Litterman" on November 10, 2016. 
He presented "Multiperiod Portfolio Selection and Bayesian Dynamic Models" at Citigroup on November 16, 2016. 
---

The National Financial Mathematics Career Fair 2016
On October 28, we organized together with the  the National Mathematics Career Fair 2016 at NYU's Kimmel Center. More than 400 math finance and financial engineering student from across the country participated, and got to meet companies including:
Axioma Inc.
Bank of America
Deloitte
Fannie Mae
Global Capital Acquisition
Goldman Sachs 
IJC Partners, LLC
Imagine Software
Ingenium
J.P. Morgan
JTW Capital
Office of the Comptroller of the Currency
Prudential
PwC
R. S. A. Ltd.
Rutter Associates
Washington Square Technologies, Inc.
Western Asset Management Company
For next year, we are organizing the National Mathematics Career Fair at NYU on October 27, 2017. For information on participating in this event .  
---

Data Science at the Program Directors' Forum at NYU Courant
On October 26, 2016, directors and administrators from more than 20 programs participated at the Program Directors' Forum organized at NYU Courant in conjunction of the National Financial Mathematics Career Fair 2016
Guest speaker Ivailo Dimov '09 (Quant Financial Research, Bloomberg LP) talked about Data Science in Quantitative Finance. Ivailo emphasized some of the major trends in data science it how those are having an impact in the financial industry. 
---
New Instructors in the Program
Please join us in welcoming three new instructors to the program:
Bryan Liang - Computational Methods for Finance
Wujiang Lou - Scientific Computing for Finance
Sebastien Bossu - Advanced Topics in Equity Derivatives
---
New Half Semester Courses in the Spring of 2017
Starting in the spring of 2017, the program will offer the four new half-semester courses:
Advanced Topics in Equity Derivatives
Energy Markets and Derivatives
Market Microstructure
Securitized Products and Structured Finance
---
Mock Interview Sessions
The first semester full-time students, who joined the program in September 2016, had an opportunity to practice their interviewing skills during a half-day of mock interviews in October. The mock interviews are part of the program's career development workshop series that all full-time students participate in after joining.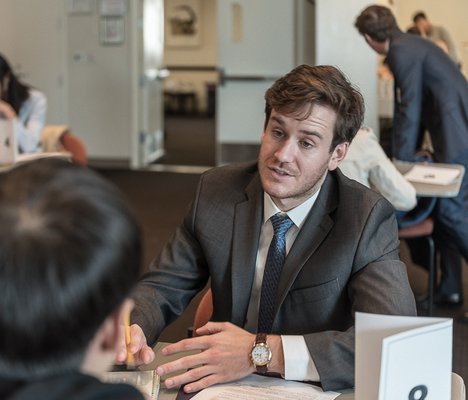 ---
Announcing Our New Industry Adviser - Leif Andersen 
We are delighted to welcome Leif Andersen as the industry adviser to the program. Many of you know Leif from his courses Interest Rates & FX Models and Regulation & Regulatory Risk Models in our program. In his new role in the program, he will be working with the program leadership on industry trends, recruiting practices and outreach. 
During his day job, Leif is the Global Co-Head of the Quantitative Strategies Group at Bank of America Merrill Lynch. He holds MSc's in Electrical and Mechanical Engineering from the Technical University of Denmark, an MBA from University of California at Berkeley, and a PhD in Finance from Aarhus Business School. He was the co-recipient of Risk Magazine's 2001 Quant of the Year Award, and has worked for more than 20 years as a quantitative researcher in the derivatives pricing area. He has authored influential research papers and books in all areas of quantitative finance, and is an Associate Editor of Journal of Computational Finance.
---