Alumni Association
---
We have an active alumni association that meet regularly for recruiting, networking and industry specific events in New York City and elsewhere. The mission statement is for the alumni association is:
To create, maintain and enhance relationships among alumni from the Mathematics in Finance program, and its students, faculty, fellows, staff and friends. We strive to foster loyalty, interest and support for the program in the area of quantitative finance.
Upcoming Events
Contact the Alumni Association
You can reach us via email or connect with us on LinkedIn.  
---
Past Events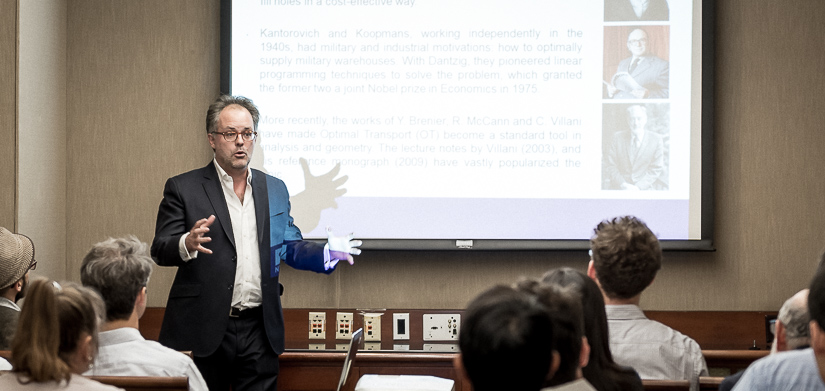 From Marriage to Option Pricing: Optimal Transport and its Applications with Professor Alfred Galichon
At an alumni event on Wednesday, October 26, 2016, Professor Alfred Galichon spoke about optimal transport and its application. Mass transportation is a celebrated problem, initially studied by Gaspard Monge two centuries ago, revisited by Kantorovich in the 1940s and rejuvenated over the last decade by Cedric Villani's textbooks, Recently it has found a range of various applications to Economics and Finance, from predicting the odds of individuals on the marriage market, to computing model-free bounds on option prices. Galichon discussed several of these applications, as well as related computational challenges and algorithms.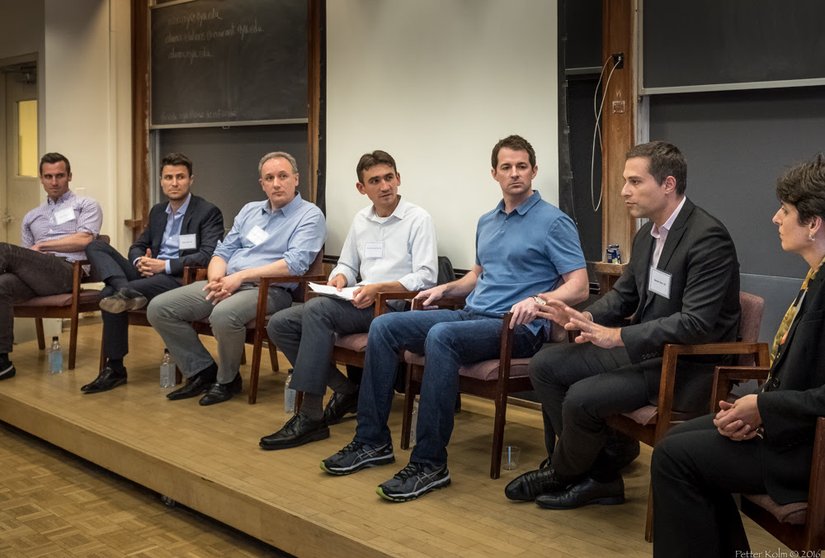 Panel Discussion with Courant Alumni in Finance 
On May 25, 2016, we held a panel discussion with a number of alums from the program. This event was organized by the Mathematics in Finance Alumni Organization, under the volunteer leadership of Joe Cerniglia (MS '06), and the Courant Institute Development and Alumni Relations staff.
The panelists were Sara Angrist '07, Benoit Bosc '05, Geoff Duncombe '05, Socrates Ioannidis '02, Julien Prado '08, and Adrien Vesval '02. The moderator was Alexey Kuptsov, who has been a Fellow of the Math Finance Program since 2008. 
A number of interesting themes were covered by the panel, including: 
Don't stop learning: The panelists felt the program prepared them very well for their careers in the industry. Nevertheless, they stressed the importance of learning new skills and techniques. Colleagues, articles, books, and online courses are all good sources. One panelist found that learning game theory gave valuable new insight. Several reported doing a lot of study related to changes in the regulatory environment (especially recently).
Manage change: The finance industry changes constantly. Therefore, it is important to stay on top of recent trends and adapt to changing market environments. The panelists shared several examples of how they personally have managed change by embracing transformation.
Career management and networking go hand in hand: The majority of the panelists have over the years worked at multiple companies, in varying roles. Their career moves, both lateral and vertical, were greatly facilitated by their professional and personal networks. The panelists agreed that the wonderful network of alums and supportive Courant faculty has contributed to their career advancements in a positive way.
Diversity of careers: The panelists shared that as students they did not have a full grasp of the scope of the financial industry, often considering just traditional buy-side or sell-side "quant" roles. With time, they came to understand that the range of opportunities is actually very broad, and new types of roles are constantly being created; for example, FinTech is bringing many new roles into the picture, and regulatory requirements have led to the creation of entirely new groups.
The importance of the internship: The panelists who were full-time Math Finance MS students emphasized the importance of their summer internships. Even when the internship doesn't lead to a full-time placement, it still provides access to a network of colleagues, and it still provides practical exposure to a segment of the finance industry.