Alumni Interviews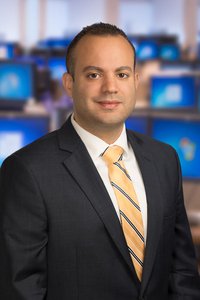 ​
John Sporn​ '17
​Vice President, Strategic and Quantitative Asset Allocation
Goldman Sachs​
John was a part-time student in the program from September 2013​ to May 2017. We had an opportunity to speak to him about his experience in the program. This is what he said: 
What made you decide to come to the program? 
While working at the Federal Reserve Bank of New York, I started my studies in the Mathematics in Finance program at NYU Courant. I chose this program as it is a top ranked program that accomodates part-time studies and provides students with a rigorous mathematical finance curriculum. 
How has the program contributed to your career and personal development?​
The program allowed me to develop a strong understanding of many mathematical and computational concepts while learning practical applications in modern day finance.  Many of the professors are senior leaders in the financial industry; and learning from them allowed me to learn from the best. In addition, with the program's strong alumni network and career services, I was able to secure a position at a leading investment bank.
What do you do now professionally?​
I am currently a Vice President in the Strategic and Quantitative Asset Allocation team within Goldman Sachs's Investment Management Division.  In this role, I advise institutional and high net-worth clients on strategic asset allocation decisions and also perform quantitative asset allocation research.​
Final words​
I strongly recommend this program to students who want to become well-rounded finance professionals.  The program does a wonderful job of developing students on the theoretical, computational, and practical fronts of mathematical finance.  At the conclusion of the program, I think students are confident in their abilities to tackle new challenges and take their careers to the next step just like I did.
---

Gerardo Flores '18
PSP Investments USA
Global Macro and Optimal Hedge
Gerardo was a full-time student in the program from September 2016 to January 2018. Originally from Mexico, he shared some of his experiences from the program:
What made you decide to come to this program? And what do you think makes this program stand out from other quantitative finance programs?
During my undergraduate studies in applied mathematics I learned about the historical importance and prestige of NYU Courant. My teachers had such a contagious admiration for the quality of the work from NYU Courant that it became clear to me that it is an elite institution, and I seriously wanted to pursue my graduate studies there at some point. Years later, after having accumulated work experience, I decided to expand my practical knowledge in the financial markets with new skills that would allow me to navigate the world of modern quantitative finance. Naturally, the Mathematics in Finance Master program at NYU Courant was my first choice as it offers rigorous mathematical training, with smaller class sizes that allow students to interact at a more personal level with professors. Add to that the program provides flexibility with relevant, interesting and diverse coursework and electives; a faculty of practitioners who literally have shaped the landscape of quantitative finance for the last decades; and the access to a vast professional network in the most important financial hub in the world.
How has the program contributed to your career and personal development?
As an NYU Courant graduate student, I had access to a career counselor who helped me understand what kind of job I was looking for. Thanks to the counseling sessions, in addition to the knowledge and skills gained from the program, I received an offer for a full-time job at a world-class institution in a quantitative finance role that constantly challenges me and helps me continue to grow.
Tell us what you enjoy with working in the financial industry.
The financial industry is constantly changing. There are new regulations, products, techniques and overall market events that demand our constant attention in order to succeed. The financial ecosystem is so complex that there is always an opportunity for those who find an edge. That ever-changing edge is what makes the financial industry so exciting to me. I think it is because of the balance between the knowledge to understand the market and the skills to reap the benefits. A natural example of those skills are applied mathematics and programming which I use daily. It is a very fulfilling and enjoyable career.
---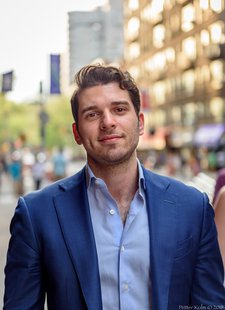 Daniele Imperiale '18
Quantitative Research Associate
JP Morgan Chase & Co
Daniele, originally from Italy, shares some of his experiences from the program:
What made you decide to come to the Mathematics in Finance Masters program at NYU Courant?
There are several reasons that made me decide to join the program at the Courant Institute of Mathematical Sciences. In particular, I believe that NYU Courant - by leveraging the outstanding quality of the faculty, together with top class adjunct professors working in the field of quantitative finance - is capable of offering a more mathematically rigorous program than other schools. In addition, the smaller class size and the location in New York City were both important factors that led me to opt for NYU.
What were  some of your favorite courses in the program?
My favorite course in the program was "Algorithmic Trading and Quantitative Strategies," taught by Professors Kolm and Maclin. This course represented the perfect balance between the theoretical approach to the mechanics of the order book and market impact models, and the hands on experience gained through a series of assignments using trades and quotes high frequency data (TAQ data). I also much enjoyed "Computational Methods for Finance," taught by Professors Guyon and Liang, where we focused on a set of extremely interesting mathematical and numerical applications of nonlinear PDEs to quantitative finance. What I liked about this course was that the applications were considerably broad and the focus was on the practical numerical schemes for PDEs, without sacrificing the sophistication of the underlying mathematical theory.
Describe some of the extracurricular activities the program provided and what you enjoyed with them.
The program organizes several extracurricular activities focused at developing personal and quantitative skills needed to prepare for the challenging quantitative finance job interviews, as well as some academic events and conferences. For example, the program hosts a series of quantitative finance seminars that are an invaluable experience not only to hear more from expert practitioners and academics about new cutting edge research in the field of quantitative finance, but also to network with people in the indsutry that are looking for talent.
Tell us a what you do now after having graduated from the program.
I currently work as a quant in the Global Portfolio Strategy team of the Chief Investment Office of JP Morgan, which oversees an investment portfolio used to manage the firm's interest rate and currency exposures. In particular, my team is responsible for the development of analytical frameworks and strategies for asset liability management that take into account the influence of market forces, regulatory constraints, liquidity requirements and the structure of the balance sheet of the bank. In addition, we also conduct independent research on broader themes and develop new models for the valuation of fixed income assets and derivatives.