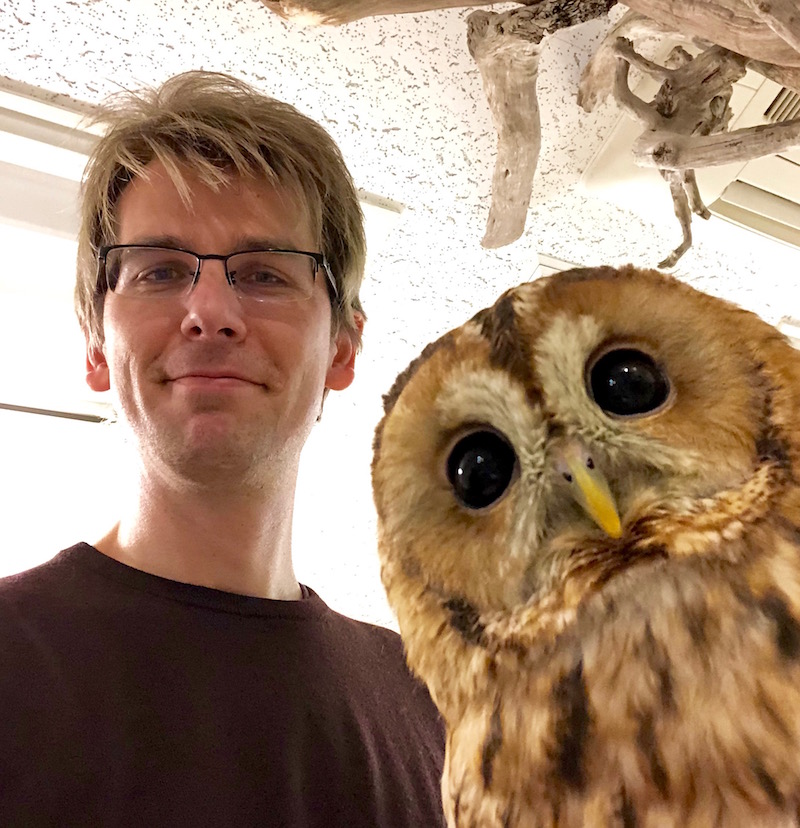 Contact information:
 
Georg Stadler
Courant Institute of Mathematical Sciences
New York University
251 Mercer Street
New York City, NY 10012, USA

Phone: +1 212 998 3111
Office: #1111 Warren Weaver Hall
Email: stadler@cims.nyu.edu

My research focus is on applied and computational mathematics, in particular on parallel scientific computing, inverse problems and optimization with PDEs, uncertainty quantification, and numerical methods for variational inequalities. The main applications driving my research are from geophysics and fluid dynamics. If you are interested in a more serious photo, where I am not photo-bombed by a Japanese owl, here's one.
Activities/Roles:
Teaching: In spring '19, I'll be co-teaching the Advanced topics course High Performance Computing (flyer).
Organization: I'm co-organizing Courant's Numerical Analysis and Scientific Computing Seminar I'm also organizing a workshop on Optimization and Inversion under Uncertainty as part of the RICAM Special Semester on Optimization 2019.
Funding: My research is supported by NSF (DMS-1723211, EAR-1646337), the Department of Energy (DOE) under the SciDAC-4 program ProSPect, KAUST, and the Simons Foundation.
SISC: I am an associate editor for the SIAM Journal on Scientific Computing
Group: Current PhD students: Karina Koval, Chen Li, Melody Shih, Shanyin Tong (all NYU). Former PhD students: Yair Daon (NYU), Tobin Isaac and Johann Rudi (both at UT Austin, co-advised with Omar Ghattas). Current postdocs at NYU: Andrew Giuliani (co-mentored with Marsha Berger), Tonatiuh Sanchez-Vizuet (co-mentored with Antoine Cerfon), Matt Dunlop.
Conferences, Travel and News
Upcoming/Recent
Congrats to Johann for winning the outstanding dissertation award of the CSEM program at UT Austin!
I'm co-organizing a session on HPC in the geosciences at the SIAM-GS meeting in Houston, TX and will attend the conference on Monday and Tuesday.
Attending the SIAM CSE conference in Spokane, WA, Feb 25–March 1 to give a talk on OED there. Thanks also to the SIAG-CSE for awarding us a best CSE paper award for our 2015 JCP paper!
An article about our G2S3 summerschool last summer just appeared in SIAM NEWS.
I'll attend ICUME 2018 in November, where I will give a talk about optimal control under uncertainty. Also giving the Mathematics colloquium at Johannes Gutenberg University in Mainz, Germany, on November 22.
I will attend the VI Latin American Workshop on Optimization and Control (LAWOC 2018) in Quito, Ecuador, September 3-7. I will also be at the SIAM MPE Conference in Philadelphia from September 13-15.
Aug 14: Congrats to Johann Rudi for successfully defending his PhD thesis on scalable solvers for Stokes mantle flows. Very nice work! Johann will move to Argonne National Lab as 2018 Wilkinson Fellow.
Aug 7: Giving a talk to high school students who are attending the NY Math Circle summer program on The Maths behind Bitcoin.
June 1: Upcoming travel and talks: Seminar talk at the Inst. for Maths and Sci. Comp University of Graz (my alma mater!) on June 7; Summer school in Breckenridge, CO, June 17-30.
April 6: Giving a lecture for high-school students at csplash on April 14 on the Maths behind bitcoin.
March 14: I will be at SIAM UQ in Garden Grove, CA, this April.
Feb 9: Giving a talk in the Numerical Analysis Seminar at NC State on February 13 at 3pm.
Jan 10: Giving talks in the Mathematics Department of the University of Colognue on January 12 at 2pm, and in the Mathematics Department of TU Darmstadt on January 16 at 5pm.
Nov 15: I will give a colloquium in Darmstadt, Germany on January 17, 2018. This will be a talk for a general mathematically interested public, and despite the German abstract, it will be in English.
2017
2016