C A B I R I A
---
Back to . . .

Archimedes Home Page
This section . . .

Introduction
Refuting the Legend
Cabiria
---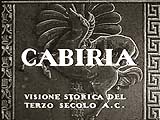 One of the few motion pictures in which Archimedes appears is the monumental Italian silent classic Cabiria, released in 1914. This film by Giovanni Pastrone (1882-1959) set the standard for epic movies and inspired many future filmmakers.

The film tells the story of Cabiria, a Roman girl kidnapped as a child and sold into slavery in Carthage at the beginning of the Second Punic War. She is sought by the Roman patrician Fulvius Axilla who, among many other adventures, participates in the siege of Syracuse as a soldier in Marcellus's fleet. The film contains a five-minute episode of Archimedes constructing his burning mirrors and using them to set the attacking Roman fleet on fire. Fulvius barely escapes the conflagration and rescues Cabiria from the Carthaginians by the end of the film.

Below are ten image-frames and all six caption-frames from the Archimedes episode. (The caption- frames were redone in Web format to be more readable.) Clicking on an image-frame will download an enlargement of it (640 x 480 pixels, 256 gray levels, 25-55 kilobytes).

The two frames of Archimedes sitting in his study are based on a painting by the Italian artist Niccolò Barabino (1832-1891) and a painting by the French artist Gustave Courtois (1853-1923). The frame of Archimedes looking out for the Roman fleet on the wall of Syracuse is based on a statue in Syracuse that appears at the top left of this page. The hexagonal mirror depicted in the film is a good interpretation of John Tzetzes' description given in the introduction to this section.



| | | | |
| --- | --- | --- | --- |
| The fortunes of Hannibal, the victor of Cannae, suffer a reversal. The Proconsul Marcellus lays siege to Syracuse, ally of Carthage. Fulvius Axilla fights under the banner of the victor at Nola. | | But a wise old man, raising his brow from his meditations, invents irresistible machines for the defense of the walls. | |
| | Archimedes asks the sun for fire with which to destroy the Roman fleet. | | |
| A device never before seen is suddenly, divinely revealed, like a sheaf of silent lightning bolts. | | | |
| Fulvius Axilla is unable to arrest the panic that surrounds him. | | By evening the formidable Roman fleet is nothing but a dying bon fire on the calm waters. | |
---
CABIRIA
1914 - Italian - Black and White - Silent - 123 minutes
Itala Film - Torino
Directed by Giovanni Pastrone (1883-1959)
Written by Gabriele D'Annunzio (1863-1938) and Giovanni Pastrone
Archimedes played by Enrico Gemelli (1841-1926)

More information on this film can be found at the Internet Movie Database.
(You can also find links there for purchasing the film.)

DOWNLOAD A MOVIE of the above episode
320 x 240 pixels (no sound), 4 minutes 17 seconds
QuickTime (MPEG-4 Video)
1 frame/second, 8.3 Megabytes
15 frames/second, 16.9 Megabytes
---