A highly subjective guide to New York
(a work in progress)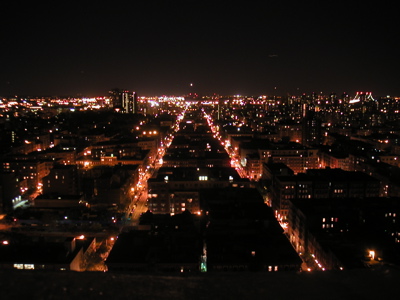 Harlem, viewed from "Terrace in the Sky"
Where to eat.
Max Soha (South of Harlem), Amsterdam at 123rd - great Italian food, urban atmosphere, affordable! (Their cafe on the same block is a hip place to hang out, too!
A, Columbus at 106th - French Carribean byob, tasty food, intimate setting, good for vegetarians/vegans!
Mexicana Mama, Hudson above W 10th - amazing Mexican food!
Caracas Arepas Bar, E 7th St. at 1st Ave. - arepas are tasty Venezualan sandwichs. Check out the yoyos, too!
MarieBelle Chocolates, Broome St, btw W Broadway and Wooster. The best hot chocolate on the planet - so thick it congeals if you let it cool too much!
Chikalicious, 203 E 10th, btw 1st and 2nd Aves. A three course dessert bar; a foodie must!
Where to shop!
Fairway The best supermarket on the island; quality, selection - produce, cheese, you name it - and (the most hard thing to find around here), good prices!
Zabar's A gourmet market, a bit too pricy for me, but the BEST for kitchen equipment. The second floor is heaven!
Silver Moon Bakery There are many great bakeries in the city - this happens to be the closest to me!
Where to explore.
Hernshead, Central Park

Bill's Place, Harlem Jazz, intimate atmosphere, on a historic swingin' block!
::home::