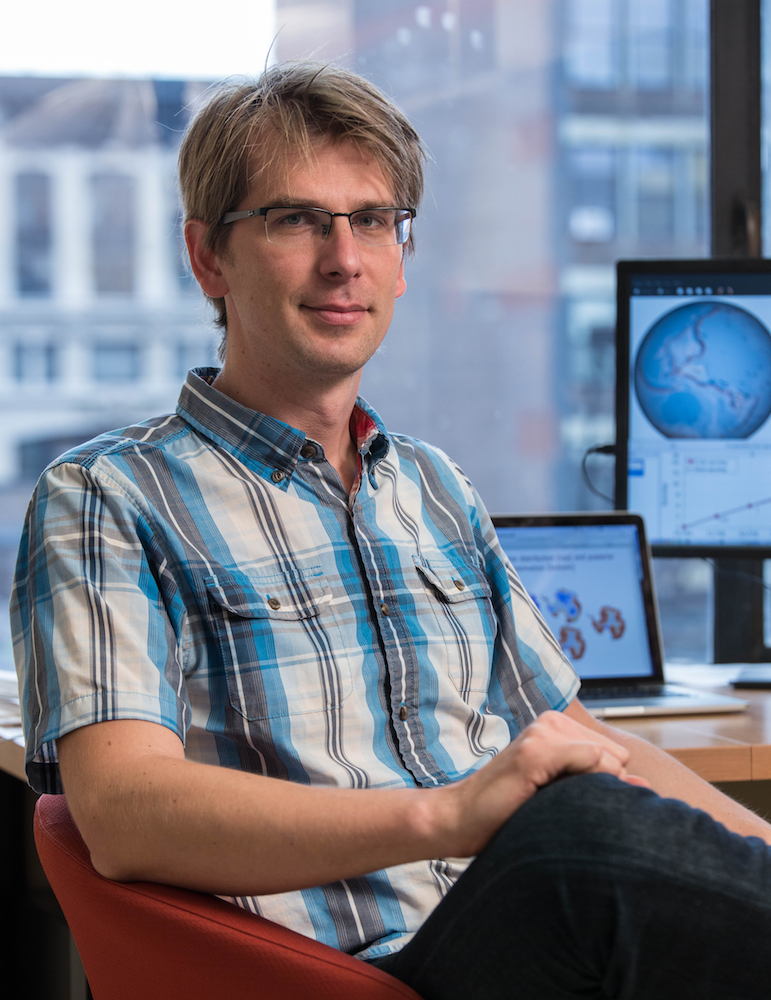 Contact information:
 
Georg Stadler
Courant Institute of Mathematical Sciences
New York University
251 Mercer Street
New York City, NY 10012, USA

Phone: +1 212 998 3111
Office: #1111 Warren Weaver Hall
Email: stadler@cims.nyu.edu

My research focus is on applied and computational mathematics, in particular on parallel scientific computing, inverse problems and optimization with PDEs, uncertainty quantification, and on numerical methods for variational inequalities. The main applications driving my research are in geophysics and fluid dynamics.
Activities/Roles:
Teaching: I am teaching Graduate Numerical Methods I in the Fall 2017. See the tab on the left.
SISC: I am an associate editor for the SIAM Journal on Scientific Computing
Organization: I'm co-organizing Courant's Numerical Analysis and Scientific Computing Seminar
Funding: My research is supported by NSF (DMS-1723211, EAR-1646337), and the Department of Energy (DOE) under the SciDAC-4 program ProSPect. Previously, my research was also supported by KAUST.
Students: Current PhD students: Karina Koval, Chen Li (both NYU), Johann Rudi (UT Austin, co-advised with Omar Ghattas). Former PhD students: Yair Daon (NYU), Tobin Isaac (at UT Austin, with Omar Ghattas).
Postdoc opportunities: I expect to have funding available for 1-2 postdoc positions over the next months. Please apply to a Courant Instructurship and contact me directly per email.
Conferences, Travel and News
Upcoming/Recent
Feb 9: I will be going to SIAM PP in Tokyo in March.
Feb 9: Giving a talk in the Numerical Analysis Seminar at NC State on February 13 at 3pm.
Jan 10: Giving talks in the Mathematics Department of the University of Colognue on January 12 at 2pm, and in the Mathematics Department of TU Darmstadt on January 16 at 5pm.
Nov 15: I will give a colloquium in Darmstadt, Germany on January 17, 2018. This will be a talk for a general mathematically interested public, and despite the German abstract, it will be in English.
Nov 15: I will give Courant's AOS colloquium on Dec 13.
Nov 1: I am co-organizing a 2-week Gene Golub Summer School in Breckenridge, Colorado in June 2018. Please take a look at our website, which is now accepting applications.
2017
2016